National Institute Chandigarh is the professional institute for nanny course in Punjab that offers education in nanny courses. We provide best Nanny coaching Chandigarh.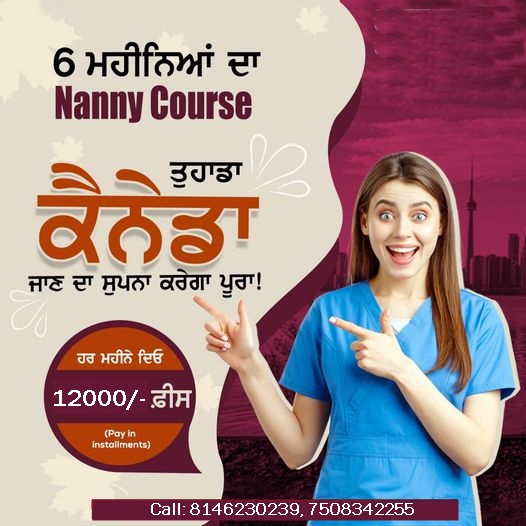 WHO is NANNY?
Nanny is a person usually an adult who is hired for full time for taking care of a child. She works on a long term. Basically a nanny's duties includes looking after the child, feeding, bathing, supervising the schedule of playing and also helping the child in homework and any school related work. A nanny also cooks a child's meals. In other words we can say that she is responsible for a child's development.
DIFFERENCE BETWEEN A NANNY AND BABYSITTER
People might get confused about nanny and babysitter but they are very different from each other. There are some basic differences they have
Nanny as we have mentioned above is full responsible for a child's care and development but babysitter only keeps an eye on the child when child's parents are not at home.
Nanny's job is full time while babysitter stays with the child only for few hours.
Nanny should be an adult while babysitter might not be adult. This is not necessary for being babysitter.
Nanny's salary is higher than a babysitter because of nanny's responsibilities.
A nanny should have good qualification and experience in taking care of a child for better service but for the job of babysitter one does not need any kind of qualification.
QUALIFICATION FOR BECOMING NANNY
There is no specific qualification for becoming a nanny. A candidate who wants to be nanny should be 10th or 12th passed but the important thing is that a nanny should have qualification in child care or any qualification related to child development. Nowadays there are many degree and diploma courses are available in institutes. To become nanny just contact National Institute Chandigarh immigration, National Institute Chandigarh immigration now ready to provides the Best Nanny course in Sangrur after getting very successfully result in Chandigarh. If you want to know about the other facts related to nanny coaching or it's related working visa or finding best Nanny coaching in Punjab or have any confusion about it so now you don't need to worry just call us, we will provide you a complete guidance and try to provide you best solutions that is why we are the best Nanny Training institute in Sangrur.
Best Nanny Institute in Sangrur
REQUIRED SKILLS A NANNY MUST HAVE
There are some basic skills a nanny should have for the better care of a child. Since being a nanny is a big responsibility. National Institute Chandigarh immigration which provides best nanny coaching Chandigarh helps to develops those following skills.
NANNY SHOULD BE INTERESTED IN CHILD'S DEVELOPMENT
It is a great thing if a nanny shows interest in developing child or in other words a nanny should be determined for the child's development
NANNY SHOULD HAVE DOMESTIC SKILLS
Nanny should also have domestic skills and also nanny should also have first aid knowledge for the better care for a child. These skills are really required if one wants to perform their job better.
NANNY SHOULD BE FLEXIBLE
Nanny should be flexible for working for many hours. She should be supportive and should also be tolerant. Apart from that the most important skill she should have is that the nanny should have love for a child.
Nanny course in Sangrur
QUESTIONS RELATED TO NANNY
There are a few questions about nanny
Q: DOES A NANNY LIVE WITH THE FAMILY?
Ans: Yes they live with the family because then the nanny can pay full attention to a child's care and development.
Q: IN WHAT DURATION A NANNY RECEIVE ONE'S SALARY?
Ans: Nanny gets salary on weekly or bi-weekly basis Sometimes on the monthly basis.
Nanny course Fees in Sangrur
Fees is 60000 Lumsum. or 12000 Per month. For offers you can Contact: 8146230239
WHY CHOOSE NATIONAL INSTITUTE CHANDIGARH
National Institute Chandigarh immigration provides best nanny coaching Punjab. We
100% success rates
Teaching nanny's skills in the best way
Flexible timings for nanny classes
Less students in each batch
Having five plus years experience
Best infrastructure and well experienced teachers
Nanny Course fees in Punjab is very less
Nanny Visa Consultant in Sangrur
Here are some visas in Nanny Category. Join Our nanny Course Program to Get Benefit of Nanny Visa.